Home > Tips and Facts > 10 Rules for Good Casting > Rule 3
Rule 3. Avoid Arrest of the Liquid Front
This is the requirement that the liquid metal front should not go too slowly! And, more precisely, should not stop at any point on the front.
The advancing liquid metal meniscus must be kept "alive" and free from thick oxide film that can be incorporated into the casting. This is achieved by ensuring that the liquid front only advance uphill (in the case of gravity poured casting processes, from the base of the sprue onwards). This implies that: only bottom gating is permissible, and no falling or sliding downhill of liquid metal is allowed.

The meniscus must experience continuous uninterrupted upward advance. That is, no stopping due to arrest of pouring, and no extensive horizontal sections or waterfall effects (avoided by casting design or mold orientation), which will cause a general temporary arrest of the liquid front in the casting, and thus lead to oxide laps, or if prolonged, even cold laps.
This drawing shows the unstable advance of a film-forming alloy, showing the formation of laps as the interface intermittently stops and restarts by bursting through and flooding over the surface film.
Next: Rule 4. Avoid Bubble Damage >>
Previous: << Rule 2. Avoid Liquid Front Damage

If you would more information about Atlas Foundry Company and the Gray Iron Castings and other services we provide, please call us at (765) 662-2525, fill out our contact form, or email Sales.
Services | Products | Equipment | Benefits | FAQs
Tips & Facts | Links | About Atlas Foundry | Foundry Glossary
Contact Atlas Foundry | Site Map | Back to Home
---
Atlas Foundry Company, Inc.
601 N. Henderson Avenue
Marion, IN 46952-3348
Telephone: (765) 662-2525 • Fax: (765) 662-2902
Email: Atlas Foundry • Sales: Email Sales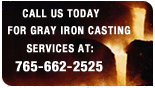 10 Rules for Good Casting
Avoid Arrest of the Liquid Front