Home > Tips and Facts > 10 Rules for Good Casting > Rule 6
Rule 6. Avoid Shrinkage Damage
No feeding uphill because of unreliable pressure gradient (also see Rule 7 on convection).

Demonstrate good feeding design following all seven feeding rules, by an approved computer solidification model, and test castings.

Control the level of flash at mold and core joints; mold coats and mold temperatures. Random flash/mold coats/mold temperatures can give random feeding effectiveness by unpredicted changes to the temperature distribution in the casting.
This figure shows castings with blind risers. F2 is correctly vented, but has mixed results on sections S3 and S4. Riser F3 is not vented and therefore doesn't feed at all. The unfavorable pressure gradient draws liquid from a fortuitous skin puncture in section S8. The bottom drawing illustrates the plastic coffee cup analogue: the water is held up in the upturned cup and cannot be released until air is admitted via a puncture. The liquid it contains is then immediately released.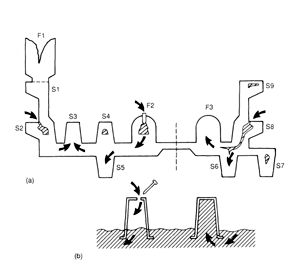 Next: Rule 7. Avoid Convection Damage >>
Previous: << Rule 5. Avoid Core Blows

If you would more information about Atlas Foundry Company and the Gray Iron Castings and other services we provide, please call us at (765) 662-2525, fill out our contact form, or email Sales.
Services | Products | Equipment | Benefits | FAQs
Tips & Facts | Links | About Atlas Foundry | Foundry Glossary
Contact Atlas Foundry | Site Map | Back to Home
---
Atlas Foundry Company, Inc.
601 N. Henderson Avenue
Marion, IN 46952-3348
Telephone: (765) 662-2525 • Fax: (765) 662-2902
Email: Atlas Foundry • Sales: Email Sales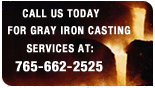 10 Rules for Good Casting
Avoid Shrinkage Damage
Article by John Campbell
University of Birmingham
Birmingham, United Kingdom
Reprinted with permission