Home > Products > Construction
Atlas Foundry Construction Products
Atlas Foundry produces a variety of Gray Iron construction equipment and components including: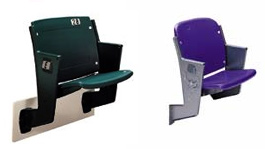 To view more detailed photos and descriptions of our Gray Iron Casting products for the construction industry, please click on the thumbnail photos below:
Cast iron parts for stadium seats
Seating parts produced include and right seat sides that hold the seat back in place and allow the seat bottom to go up and down. The seat side bases bolt directly to the stadium structure.
Industrial rings and covers
Atlas Foundry offers industrial rings and covers for service station monitoring wells.
Drain components
Product applications encompass roof and floor drain receptacles and covers for commercial and industrial use.
Previous: << Industrial Equipment
Next: Marine Engine >>
If you would more information about Atlas Foundry Company and the Gray Iron Castings and other services we provide, please call us at (765) 662-2525, fill out our contact form, or email Sales.
Services | Products | Equipment | Benefits | FAQs
Tips & Facts | Links | About Atlas Foundry | Foundry Glossary
Contact Atlas Foundry | Site Map | Back to Home
---
Atlas Foundry Company, Inc.
601 N. Henderson Avenue
Marion, IN 46952-3348
Telephone: (765) 662-2525 • Fax: (765) 662-2902
Email: Atlas Foundry • Sales: Email Sales